Security Solutions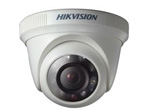 Types of Cameras (CCTV)
CCTV System is an important aspect acting as a police to detect any accident and contain the damage and warning the intruder and keep the premises safety. The cameras require regular alignment and cleaning of the lenses & checking the connectivity.
IR Dome Camera
Image Sensor: 1/3" DIS
Signal System: PAL/NTSC
Effective Pixels: 720(H)×480(V)
Min. Illumination: 0.1 Lux @ (F1.2, AGC ON), 0.2 Lux @ (F1.8, AGC ON)
Shutter Time: 1/25(1/30) s to 1/15,000s
Lens: 3.6 mm @ F1.8 ( mm3.6, 6 mm, optional), Angle of view: 70.6° (3.6 mm)
Horizontal Resolution: 600TVL
IR Range: Approx 10 to 20 meters.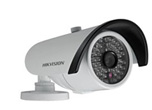 IR Bullet Camera
Image Sensor: 1/3" DIS
Signal System: PAL/NTSC
Effective Pixels: 720(H)×480(V)
Min. Illumination: 0.1Lux @ (F1.2, AGC ON), 0 Lux with IR, 0.2Lux @ (F1.8, AGC ON), 0 Lux with IR
Shutter Time: 1/25(1/30) s to 1/15,000s
Lens: "-IR1"" series: 3.6mm @ F1.8 (2.8mm, 6mm optional), Angle of view: 70° (3.6mm) "-IR3" series: 12mm @ F1.8 (3.6mm, 6mm, 8mm, 16mm optional), Angle of view: 22.72° (12mm)
IR Range: "-IR1" series: Approx. 10 to 20 meters "-IR3" series: Approx. 30 to 40 meters.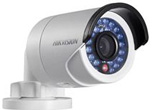 IP IR Camera
Image Sensor: "1/3" Progressive Scan CMOS
Min. Illumination: 0.01 lux @F1.2, AGC ON, 0 lux with IR, 0.028 lux @F2.0, AGC ON, 0 lux with IR
Shutter Time: 1/25s ~ 1/100,000s
Lens: 6mm @F2.0 (4mm, 12mm optional)Angle of view: 45.3°
Video Compression: H.264 / MPEG4 / MJPEG
Bit Rate: 32 Kbps ~ 16 Mbps
Max. Image Resolution: 280x960
Frame Rate: 50Hz: 25fps (1280 × 960), 25fps (1280 x 720), 60Hz: 30fps (1280 × 960), 30fps (1280 x 720)
Image Settings: Saturation, brightness, contrast adjustable through client software or web browser
BLC: Yes, zone configurable
Network Storage: NAS (iSCSI optional)
Communication Interface: 1 RJ45 10M / 100M ethernet interface
IR Range: Up to 30m.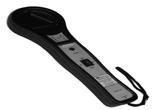 HAND HELD METAL DETECTOR
Auto set
High sensitivity-detects 0.1gm metal of Ferrous, Non-ferrous & ferrite
Sharp Audio on metal detection
Visual indication for -ON, Metal, Low battery & Charge
Dual Power- 9V Rechargeable Battery & 9V Dry Cell
In-built charger
Low power consumption - Continuous use 350 hrs or more
Sturdy ABS molded body.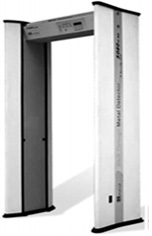 DOOR FRAME METAL DETECTOR
Weather proof (for outdoor use)-PVC coated frame
Fully Auto Set
Micro controller based
Detect all metals & ferrite
Equal sensitivity for ferrous & non-ferrous metals (Note- conventional detectors having 40% less sensitivity for non-ferrous metals)
0-9 level sensitivity control
Multi-tone audio
Visual indications for metal - LED bar-graph, 03 distinct LEDs, Charge & Low battery
Big LCD screen
Threshold setting
Intelligent counter (6 digit
WALK / STOP indicator for traffic control
Key pad for parameter settings
Plug-in type cards
Battery Back up 6 - 8 Hrs
In built charger
Frame detachable in three parts
Safe for cardiac pacemaker  / film / pregnant women
PC compatible (optional).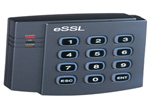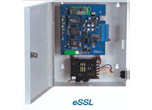 Simple Access control system
8 Door Controller
It has a inside Standard Wiegand 26BIT Card reader itself and can connect with a standard Wiegand 26BIT output card reader also. It facilitates the long range wire connection to save the material / manpower / time, keep the sub-controllers in non-interference and advances the stability of the whole system.
Technical Specification
Dimension: L300mm×W220mm×H73mm User Number 9214
Operating Power supply: DV7-35V' Power consumption, ≤1 W Storing Records keep latest records18724
Input Power Supply: Inside Switch Power Supply,  Input Power: AC220V/50Hz Power Off Data Keep 10 year
Working Environment Temperature: -20 ~ +60 Humidity: 5%~90%; 100% humidity-proof disposal
Connection Mode: Adopt connect port that can be dismantled
Communication Mode: Standard RS485 or  TCP / IP communication agreement
Protection Measurement: Lightning-Proof.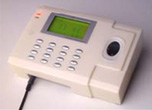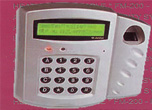 Biometric Time and Attendance
Fingerprint Reader specs
High speed and reliable fingerprint matching, it can match 1500 fingerprint templates within 2 seconds
1: N identification, 1:1 Verification
Identification time <=2s
Standalone embedded fingerprint reader, no dedicated PC connectivity required
Built in strong embedded fingerprint identification system
Optical fingerprint sensor with 500 dpi resolution Supporting 360 degree rotation of fingerprint templates, easy to use and reliable
User capacity:1500
Transaction Storage: 50000
Inbuilt 125 Khz proximity card reader
Communications RS232, RS485, TCP / IP, network compliant
USB Flash Disk (Support USB 1.1 Protocol for wireless system)
It is real Wireless system available wherein no cables  required. Data can be downloaded by USB Pen
Various usage mode: Fingerprint, Fingerprint with card & Password with employee code.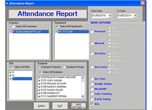 Time & Attendance software
Full featured Time & Attendance software as per Indian market requirement
More then 25 reports in different style based on departments / dates / Shifts
Daily, weekly and monthly Attendance reports
Late arrival, early departure and Time Summary reports to help management decision making
Holiday list, leave management software module included
Stores complete personal and official details of employees
Defined security settings to avoid unauthorized and misuse of system.
Benefits
No proxy punching
Improved productivity because of effective utilization of human recourses
Disciplined office / factory environment
Can be customized as per client requirement on request.
P A System ( Public Address )
PA System is important to address occupants in case of emergency. Hence the amplifier, speaker and mike should be kept functioning.
Panic Bar

Model no.5100p with alarm.
Alarm function Rim type / full length.
Material: Stainless steel or zinc alloy.
For 36" to 48" door width With Battery back up.

This is a horizontal metallic bar installed on the door from the inside. The door is locked due to this, but can be opened from the inside by pressing the lever of the bar. This way an evacuation can happen and occupants take to safety. It avoids any unauthorized entry from outside and also safety of the occupants.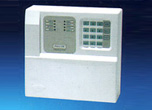 Burglar Alarm or Intruder Alarm System

Burglar / Intrusion alarm system for offices and warehouse or home.
Fire Alarm System is important for detecting fire visually by way of Manual call point and in unmanned areas by smoke detectors. Hence are important to detect fire and alert occupants. The system accessories and the system as a whole should be made and kept functional for safety like smoke detectors, which should be frequently cleaned.