Signages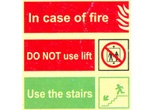 What is Gloself
Gloself is a sign board with photo-luminescent material, emits a glow, when there is darkness. This material on exposure to light, natural or artificial absorbs and stores light and then in the absence of light  gives off a luminous glow by its non-toxic chemical.
It is Maintenance Free.
It is available in different materials like Rigid Sheets, Flexyl sheets & Metals.
It is available in Stick type sheets, Screw type sheets & Hanging type sheets.
It is having glow period from 60 mins to 360 mins.

The products of Gloself
These are generally RED in colour. These signages direct you to the nearest fire fighting and allied equippments like Fire extinguishers, Manual call Point, Hose reel and Hose pipe.
Fire Equpments Signages
Safety Signages
These are generally RED or GREEN in colour. These are for Safety purpose like Lift Signages, Floor Signages, Danger, No Smoking, First Aid Box, BA set, Assembly Area, Floor Plans and Authorised Entry.


Directional
These are directional Gloself signages to occupants and outsiders to evacuate or fight fire as required especially in case of darkness.
These are generally GREEN in colour. These help in directing occupants to safety by guiding them to the nearest EXIT for evacuation. These are EXIT, Fire Exit, ascending stairs, descending stairs, Left Arrow Exit and Right Arrow Exit.
ROUTE MARKERS: The route markings are available that can give directions to an EXIT. These are usually on the floor level.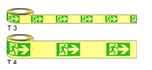 TAPES are slim route markers of 1 and 2 continuous strips or small units for direction. They are stuck on the lower end of wall (1 feet above ground) or on the Floor itself especially when the upper area is filled with smoke and need direction to nearest EXIT.